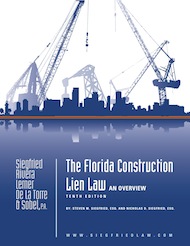 The Florida Construction Lien Law, an Overview
Tenth Edition(2011)
NTO Management is pleased to announce that Steven M. Siegfried and Nicholas D. Siegfried of the law firm Siegfried, Rivera, Lerner, De La Torre & Sobel, P.A. have recently published the Tenth Edition of their book, "The Florida Construction Lien Law, an Overview."
This book, first published in 1986, contains a comprehensive overview of Florida's construction lien law, a copy of the Florida lien statute, and a complete collection of forms necessary to comply with the law.
This important information resource is available for $90.00. However, NTO Management customers can receive it at a discounted price of $50.00. Please call 813-752-9444 to place your order.
Approx. 11" x 8.5" x 0.5"